Description
Kyota Yosei M868 4D Massage Chair
The Kyota Yosei M868 4D massage chair looks as good as it feels. From it's superior quality, to the easy-to-use remote, you get a customizable massage chair tailored to you.

The Yosei M686 4d is packed with the latest features like the 4D back mechanism that works down the length of your spine from your neck to glutes, providing lumbar heat to soothe sore muscles. The Triple Roller, Total Sole Reflexology™ in an enclosed foot massage is an amazing foot massage experience. The unqiue Integrated Air Ionizer helps facilitate healthy oxygen intake, while the MyMassage™ Memory Programs allow storage for your favorite customized massage programs. Listen to your favorite music from the built in Bluetooth Speakers which is perfect for winding down from a long day. Worried about space? Relax, the Zero Wall Fit™ Space-Saving Technology requires only 2" of space behind the backrest at any given position.

Rejuvenate and recover your body in the comfort of home. Kyota is constantly working to reach the peak of luxury and relaxation, and the Yosei 4D is a perfect chair for your home retreat.
Specs
Features
Advanced 4D Back Massage Mechanism - Advanced massage technology combines in & out motions at varying speeds, with sweeping left-right and up-down motions, to create 4D human hand-like deep-tissue massage that is smooth and fluid.
Triple roller Total Sole Reflexology - Full triple rollers per foot create the most Reflexology coverage available in any massage chair sending therapeutic relief throughout your body.
Weightless Zero Gravity Recline - Zero Gravity elevates your feet up over your heart to improve overall circulation and reduces gravitational force on your spine for a sense of weightlessness.
Zero Wall Fit™ Space-Saving Technology - Space-saving design, slides the chair forward when reclining taking up less space in your room.
Complete Calf™ Kneading + Oscillation - The ultimate in lower leg relief. Rollers combine with oscillating movement and compression air cells to simulate hands gently relieving tension and pain.
TrueFit™ Body Scanning - Body scanning technology ensures that the massage rollers hit all of your unique pressure points by adjusting the position of the rollers and tailoring them to your body.
Lumbar Heat - Heating modules located in the back of the chair provide a soothing warmth and help loosen your muscles.
Premium Bluetooth speakers - Use your phone or Bluetooth device to create your own world of relaxation.
Integrated Air Ionizer - The chair contains a small vent near the headrest to facilitate healthy oxygen intake by emitting negatively charged ions to reduce intake of pollutants.
Product Specifications
Weight: 285 lbs.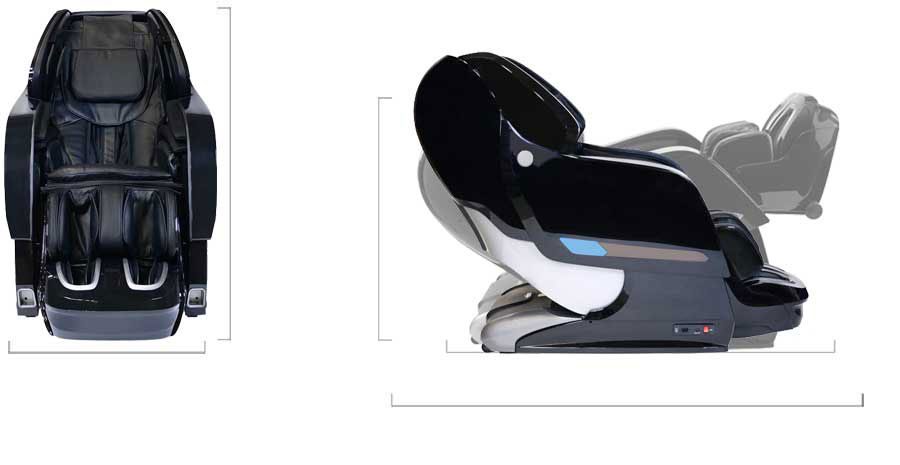 Downloads
Payment & Security
Your payment information is processed securely. We do not store credit card details nor have access to your credit card information.