Description
Kyota Kansha M878 Massage Chair
The Kyota Kansha M878 4D is the total body health and wellness experience in the comfort of your own home. Whether you're winding down after a long day at the office, recovering from a workout, or simply recharging, the Kansha's state-of-the-art 4D back mechanism will deliver a professional massage experience.
The Kansha is designed to help you relax. Equipped with Intelligent Voice Command + Control, there is no need to sit up and reach for the remote. You can easily control your massage session and activate massage programs simply by asking. The Kansha's Complete Calf™ Kneading + Oscillation and Total Sole Reflexology Foot Rollers work in perfect harmony, imitating the hands of a professional masseuse. This powerful combination increases circulation in your calves and feet and gently relieves built up tension. To enhance the entire wellness experience, turn on the Integrated Air Ionizer for clean air intake and switch on the Intersound™ Bluetooth® System to play your favorite playlist for the perfect state of relaxation. Finally, the Kansha's Zero Wall Fit™ Space-Saving Technology requires only 2" of space behind the backrest at any given position, so there's no need to worry about space.
The Kyota Kansha M878 brings the benefits of a therapeutic massage home for daily care whenever you need it. With the latest technology and top-quality materials feeling great every day never looked so good.
Specs
Features
4D Massage Technology - A 4D back and gluteus massage mimics deep tissue massage of human hands through the use of a 4D mechanism that moves up and down, left and right, in and out (intensity), and also adds a fourth dimension of variable speed on these movements, to create the feel of a human hands massage.
Triple Foot Roller Total Sole Reflexology - This feature has the broadest coverage of the foot sole allowed in a massage chair today utilizing triple shiatsu rollers per foot attending to the vital pressure points on the feet linked to other parts of the body.
Intelligent Voice Command + Control - This hands-free feature works with an intelligent voice control system that allows you to activate massage programs simply by asking.
Complete Calf™ Kneading + Oscillation - The ultimate in lower leg relief. The calf area of each leg contains kneading rollers in the back and orbital oscillation on the sides of the calves to soothe sore, tired calf muscles. The rollers and oscillation imitate human hands gently working to relieve tension and pain and restore circulation and flexibility. Simultaneously, the multiple air cells provide compression with adjustable intensity.
Additional Features

Premium Bluetooth® speakers
2 MyMassage™ Memory Programs
Integrated Air Ionizer
49" L-Track Massage
Weightless Zero Gravity Recline
TrueFit™ Footrest Extension
Zero Wall Fit™ Space-Saving Technology
Rocking Technology
Lumbar Heat
Truefit™ Body Scanning
USB Charging Station
Adjustable Shoulder Airbags
Color Menu-Driven Remote
9 Auto Programs
Apple & Android App Functionality
Air Massage

Product Specifications

Weight: 323.40 lbs.
Upright (LxWxH) 66" X 35" X 48"
Reclined (LxWxH) 36" X 35" X 36"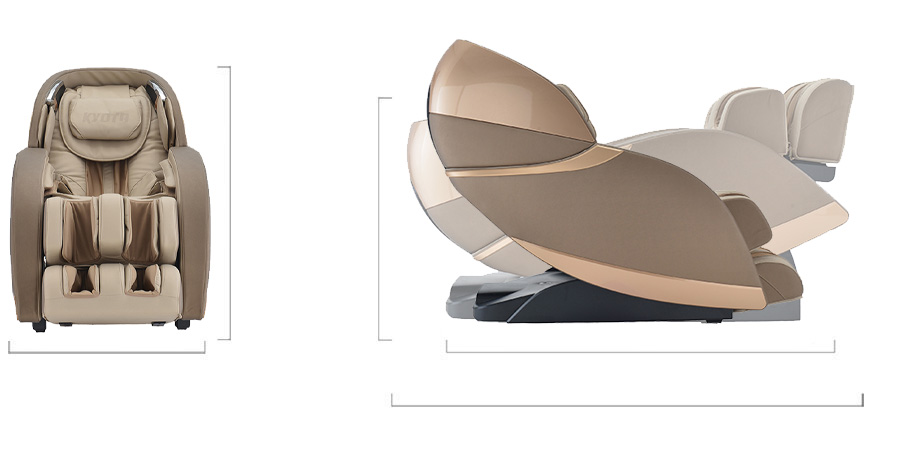 Downloads
Payment & Security
Your payment information is processed securely. We do not store credit card details nor have access to your credit card information.