Description
Kyota Genki M380 Massage Chair
The Kyota M380 Genki has high-end massage chair features, yet is surprisingly affordable. Now anyone can enjoy the mind and body benefits of massage, from head-to-toe anytime in the comfort of home.

Featuring a special 360° sweeping 4-Node Back Massage Mechanism with five different massage techniques, it travels down your body from your neck to your glutes. Experience Triple Roller Total Sole Reflexology and music through the Intersound™ Bluetooth® Speakers. The M380 Genki advanced features include Intelligent Voice Command + Control; simply tell the M380 Genki your massage selection! The Total Calf™ Kneading and Oscillating calf feature is normally found on chairs twice the price. Same with the MyMassage™ Memory Program feature to store your own custom creations. And if you are worried about space, relax, this chair is equipped with Zero Wall Fit™ Space-Saving Technology and requires just 2" of wall clearance.

The Kyota M380 Genki is the best choice for putting a chair into your healthy lifestyle to deliver daily therapeutic massage without compromise. Live better, relax and renew with the best value you will find in any massage chair today.
Specs
Features
360 Degree 4-Node Massage - The 4-node robot performs, kneading, tapping, kneading with tapping, shiatsu and knocking massage in an infinite (figure 8) sweeping motion.

Calf Oscillators - Soothe those tired calves. Usually found in chairs twice the price, the Genki M380 features kneading and oscillation motor that combines with air cell compression for the most comprehensive massage available.

Lumbar Heat - Heating modules located in the back of the chair provide a soothing sensation and help loosen your muscles.

Total Sole Reflexology - Utilizes triple shiatsu rollers per foot along with the squeeze of air compression to provide reflexology relief throughout the body.

One Touch Zero Gravity - Zero gravity positioning elevates your knees above your heart, which allows the spine to decompress, provides a sense of weightlessness, and maximizes the effect of the massage rollers.

Slide Forward Space-Saving - No need to worry about what room or how you will arrange your chair, relax and feel the stress melt away as the Zero Wall Technology affords you the ability to place your chair with ease.

Intelligent Voice Command + Control - This feature allows you to control your chair and massage experience hands-free by using one of the many voice commands. Such as "Stress Relief" "Change to point mode" or "Go a little down."

12 Auto Programs + 3 MyMassage Memorized Programs -Convenient and easy-to-use auto programs. Choose from Quick, Full Body, Rest & Relax, Recharge, Recovery, Stretch, Neck & Shoulders, Back Relief, Lower Body, Stress Relief, Renew, Athlete, and three memory massage programs.
Product Specifications
Weight: 255 lbs.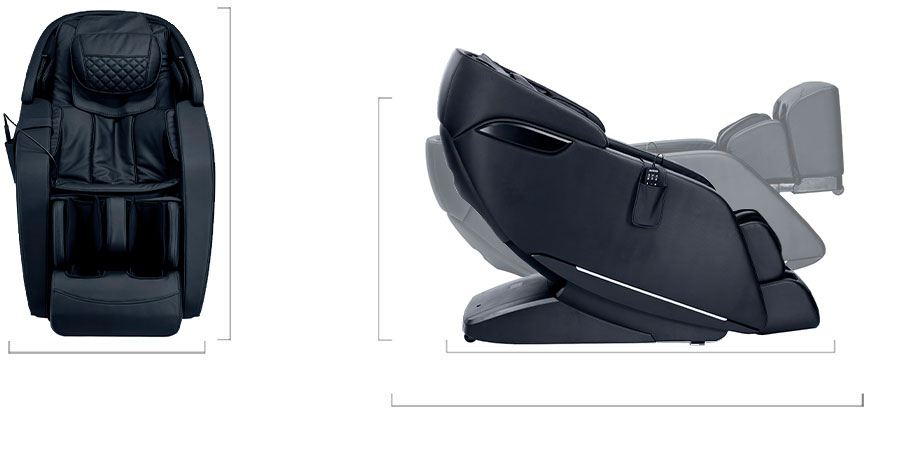 Downloads
Payment & Security
Your payment information is processed securely. We do not store credit card details nor have access to your credit card information.